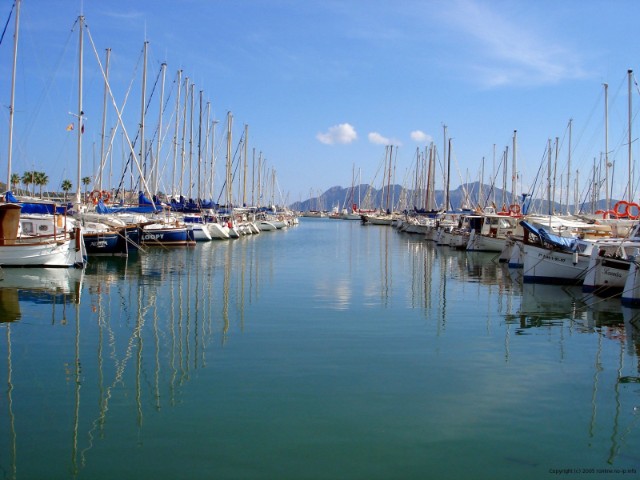 Print1,499Price from: €1,499/week
Apartments Daina holiday suites in Puerto Pollensa Mallorca
This complex of 20 holiday suites in Puerto Pollensa offer modern comfortable accomodation. Central location. Guest enjoy use of the Hotel Daina fantastic sea front swimming pool and terraces.
These apartments from March 2023 become part of the Hotel Daina accommodation. The rooms will be known as Deco Suites and will be very tastefully furnished with double beds or 2 single beds, sofa bed in the lounge, stunning walk in shower and a small kitchenette.  However, the self catering option will no longer be available.  Guests may book bed and breakfast or half board facilities to enjoy at the hotel.
New photos will follow shortly.
The building, known as Formentor building,  is located one road back from the sea front.  A very central position close to the church square.  The accommodation is modern, spacious and comfortable. Most noteworthy is guests have use of the Hotel Daina fantastic sea front swimming pool.  Additionally the sun terraces, snack bar, 24hr reception and weekly entertainment.
All the apartments offer hot/cold air conditioning, 32¨flat screen SAT TV, free WIFI, telephone.  Use of the safety deposit box and daily maid service is included in the rental. The beds (singles and doubles) are extra large enhancing your comfort.  All bathrooms have shower and hairdryer. Sofa beds are available in the lounge, thus the deco suites will sleep 4 persons (over 14 years old)
The beautiful two bedroom apartments  also have a sofa bed and are prepared for 6 persons. These superior apartments are located on the top floor and offer a huge private terrace.  A perfect spot to enjoy the peace and quiet and privacy. Early booking essential in high season.
A garage is available for storing bicycles.  This makes the Apartments Daina a very attractive option for cyclists or cycling groups.
NEW PHOTOS TO FOLLOW
RENTAL PRICES
Prices vary according to availability, accommodation type and dates.
An DECO SUITE sleeping 2, during September 2023 has a price of 1595€ as at October 2022.
PRICES DO NOT INCLUDE THE BALEARIC TOURIST TAX which is paid on arrival. This property offers an early booking discount prior to 31 December.
Frequently Asked Questions
Who runs Parasol Property Mallorca?
Parasol Property Mallorca was set up in 2011 by Jan Dexter who has lived on the Island since 1985.  Previously she worked for several tour operators including 12 years as Manager of The Travel Club of Upminster. She has a wealth of knowledge and an impressive local reputation. Many clients are now seen as friends.
What property services does Parasol Property Mallorca offer?
Parasol Property Mallorca offers a complete range of services for your property requirements.  We provide a reliable and honest property management service to property owners who are not able to run the property themselves.  We offer a vast portfolio of fabulous properties for holiday rentals in apartments, villas or hotels.  Additionally, we pride ourselves on a genuine property finder service, whether it be a property to buy or long term rent.  If you wish to sell your property then it will be safe in our hands too.
Why should I book with Parasol Property Mallorca rather than Airbnb or VRBO for my next holiday accommodation?
Not only will you pay less money for your rental you will receive a personal service from start to finish from someone who knows the Island and your property personally.
Are we restricted to a Saturday arrival for holiday rentals?
Some of our villas do insist on a Saturday arrival however the majority of our properties do offer flexible arrival days and lengths of stays. Please check the property description for any restrictions.
Should I decide to book accommodation with you howe do I pay and also ensure my money is safe?
On booking we require a 30% deposit.  The balance is usually due one month prior to your arrival.  A handful of villas require the balance earlier.  Payments can be made by secure credit card link or by bank transfer to our dedicated client funds bank account.
What are your terms and conditions on holiday rentals?
What happens if we have to cancel our holiday?
We strongly recommend that every guest contracts suitable travel insurance once they book. This will offer protection in these rare circumstances.  It will also offer valuable medical assistance abroad should it be necessary during your stay.
What does your property management service consist of?
We pride ourselves on always doing what we promise to do which is take care of your property when you are not able to.  Regular property checks, cleaning, laundry, reforms, pools, garden, etc. We offer this service for small apartments or huge luxury villas between Binissalem and Puerto Pollensa.
What happens in an emergency if we are staying in a holiday rental without a reception?
All guests have a 24hrs contact telephone number.  Additionally properties have their own information book which includes emergency numbers for the property or medical or police requirements.
I would like to buy a property in Mallorca soon but I do not want to be bombarded with offers or pressurized.
You have my total commitment not to contact you unless we really do have a property which matches your requirements. I listen carefully and pride myself in matching a property to a client rather than dragging clients around to view 6 properties so I can tick a box.  Time is valuable, mine and yours, so I do not waste it on useless visits.  This is unlike most other estate agents in the area and I pride myself on this and my reputation.
I am travelling with a toddler for the first time and am anxious about their safety. How can you help?
Most of our accommodation is family friendly unless otherwise clearly stated.  We offer one free travel cot and highchair in all our holiday rentals.  For a supplement, we can even arrange for pool safety fencing in private villas if booked in advance.  Other baby equipment can also be arranged for you, baby alarm, playpens, pushchairs.  Let us know how we can help.
Features
Air Conditioning
Close to Amenities
Close to beach
Close to Town Centre
Heating
Satellite TV
Swimming Pool
COVID-19 measures

This property offers enhanced hygiene and cleaning measures to protect visitors and staff. Ask about our late cancellation policy.
Location map
Book now